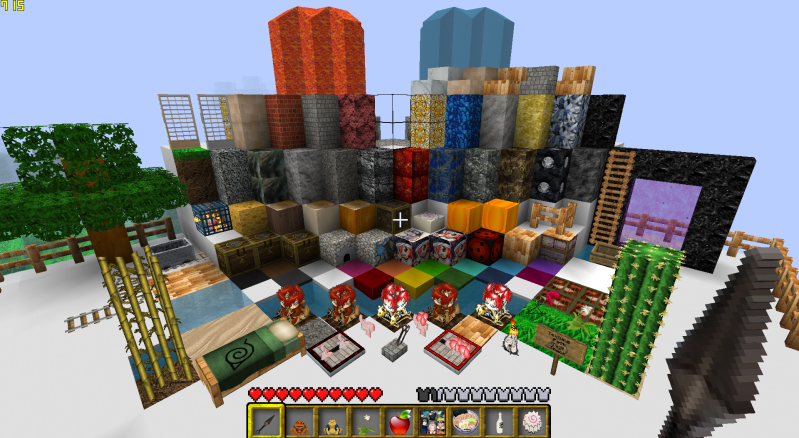 I've been getting requests to update this so I finally got around to it. My father had a heart attack so I've been busy irl. On topic note; I plan to redo most of this texture pack once I get myself a Wacom Intuos4 and it will have more of a watercolor anime feel to it. That will have to wait till I can save up the $350 for it or get a TON more hits on this :P I'm not very good drawing with a mouse honestly.
As for this update I got rid of all the Misa stuff and anything I haven't quite finished I place held with 64 bit default textures.
I got some good feedback and would love some more. I am slowly trying to move this pack away from the realistic looks and mesh more with the anime in it but again, like I said, I might wait till I have a pen to draw with. More ideas or suggestions are highly appreciated! Let me know people are actually interested in a Naruto Texture pack and motivates me to do better on it! :lol:
Added in this update:
Armor
Most of the Textures
New Items
New Art Pictures
Still on my to-do list:
Mobs
Armor Icons
Few other items
Rail Textures
Animals
Installing the Texture Pack
Save my pack's zip file to the texturepacks folder in your minececraft directory. (Do not extract!)
Download the latest version of [url="http://www.minecraftforum.net/topic/232701-611-update173-compatible-mcpatcher-hd-fix-210-02/"]MCPatcher[/url].
Run MCPatcher and hit Patch, then close it when it's done.
Run Minecraft and go to Mods and Texture Packs to select my pack.

[url=http://minecraftmurals.blogspot.com/]
[img]http://img.photobucket.com/albums/v670/Truthsayer/Minecraft%20Murals/Badge01-1.png[/img][/url]

[url=http://minecraftmurals.blogspot.com/]
[img]http://img.photobucket.com/albums/v670/Truthsayer/Minecraft%20Murals/Badge02-1.png[/img][/url]

[url=http://minecraftmurals.blogspot.com/]
[img]http://img.photobucket.com/albums/v670/Truthsayer/Minecraft%20Murals/Badge03-1.png[/img][/url]

[url=http://minecraftmurals.blogspot.com/]
[img]http://img.photobucket.com/albums/v670/Truthsayer/Minecraft%20Murals/pack.png[/img][/url]